If you're considering working with an automation integrator to assist you in integrating new equipment or technology in your distribution center, warehouse, or order fulfillment operations, you're likely to have several questions lined up in mind.
What is it like to work with an automation integrator ? Is it better to work with an integrator or with a manufacturer ? What do they exactly do? How do you choose an automation integrator ? The list of questions keeps going on.
However, the question most people are really looking for to be answered is, "Is it worth working with an automation integrator?" Even though this may sound biased, the question can be answered with a resounding yes. Automation integrators bring a profound understanding of the technology and expertise that empowers them to deliver significant value to your project.
This comprehensive guide looks at what automation integrators are, what you can expect while working with them, and the various things you should look for in a good automation integrator.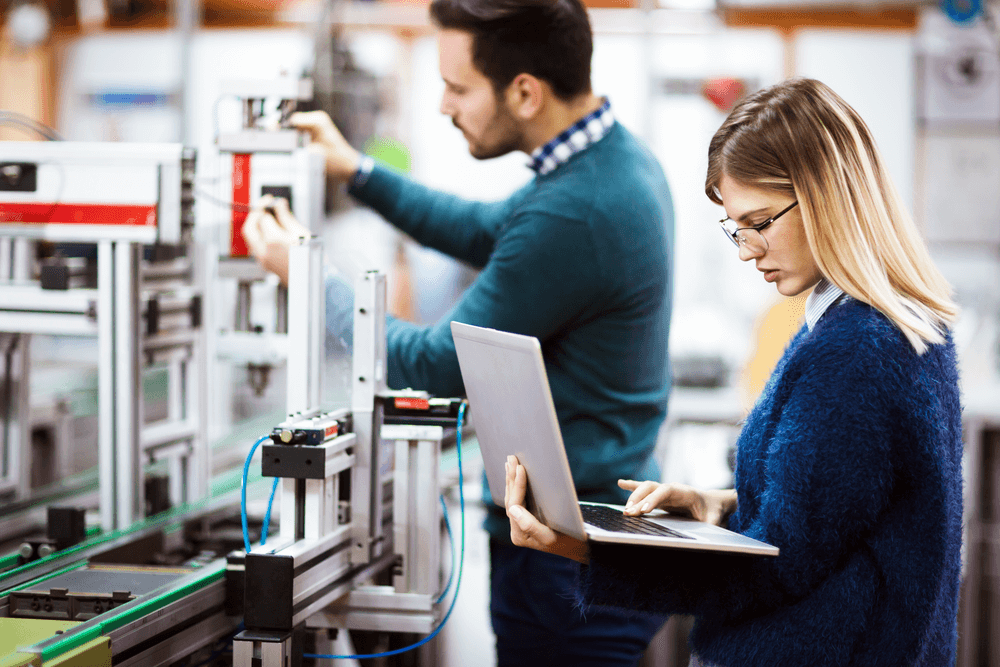 What is an Automation Integrator?
An automation integration is a person or a company with a team of experts that scrutinizes and operates to integrate and implement the best-of-breed equipment, systems, technologies, and workflows within an operation.
An automation systems integrator is responsible for comprehending the final user's needs and then integrating the various technologies needed to transform the end-users vision into a reality. They also go by various other titles, such as systems integrator, automation systems integrator, industrial automation systems integrators , warehouse systems integrator, etc.
Their implementation involves careful planning and reviewing, and the utmost goal is to ensure that all the automation software and hardware versions work as productively and efficiently as possible.
Automation integrators can optimize the operations of practically any organization or business where automation is leveraged. They're mainly employed by companies that operate in the order fulfillment and warehouse sectors and manufacturing.
After the desired outcomes and process of the end-user have been understood, the integrator will create a layout, which might experience several revisions, and start sourcing the different components required to complete the automation. These include the presses, conveyors, feeders, indexers, pneumatic fittings, sensors, and apt guarding.
Finally, all the components will communicate through the programming and controls developed by the integrator. The integrator will work closely with the end-user and all the equipment merchants.
When to Use an Automation Integrator
An automation systems integrator is vital for businesses as it creates direct lines of communication between the automated systems that permit the plant machinery to efficiently communicate with the workers and other machinery.
Integrating systems also allows your devices to be compatible with the Internet of Things (IoT). This allows better coordination between your appliances and systems to get a competitive edge in your business practices.
Doing this makes your automated manufacturing methods more efficient, as integrated equipment effectively resolves and communicates information and issues across the entire system without relying on operators.
There are multiple reasons an original equipment manufacturer ( OEM) or an end-user might turn to an automated integrator, but here are the most prevalent reasons:
When there is little help.
When a firm wants to focus on its core.
When an inflow of new ideas is needed.
When a firm requires expertise to keep pace with technology.
When an implementation or project requires a kick-start.
When emergencies arise.
What Is It Like to Work with an Automation Integrator?
Based on where your project is in terms of development and when you opt to bring in an automation systems integrator into the mix, the kind of work automation integrators do may vary significantly. The majority of the projects will include these four key phases:
Discovery & Analysis
At this stage, the automation integrator reviews all the essential data to understand a company's challenges, the business case, and its objectives. This analysis will steer the direction and results of the system or project required.
Design
This is an iterative and collaborative process in which your system is designed to utilize the best of breed processes and technologies.
Implementation
When the design is improved, the implementation will involve documentation, kick-off meetings, testing, change control, project planning, and handover.
Life Cycle Support
The life cycle support is mainly known as the most prolonged phase in the design construction process for the mere fact that it goes on until a facility or system is decommissioned. It usually involves system maintenance, audits, upgrades, revisions, and rebuilds as required.
Having said that, it is usually recommended you bring an automation integrator into the mix at its earliest to obtain the best results – ideally in the analysis and discovery phase – so that they get the opportunity to shape the project from the very start.
This ultimately minimizes the need for project revisions and allows for a smoother completion of the project if you were to bring the integrators in halfway through a project.
What to Expect Working with an Automation Integrator?
One of the most critical, non-tangible components that an automation integrator brings is project management. The other non-tangible component it provides is expertise. Material handling expertise and project management drive what one must expect from an automation integrator before, during, and after the installation.
Before The Install
The integrator will provide a specific scope of work. This document enables the end-users to know precisely what they should expect. The integrator also provides a scope of work to all the component suppliers. This enables component suppliers like the conveyor manufacturer the chance to present their best solution for their part of the project.
In many instances, component suppliers will need to offer a vast range of models to make a system work effortlessly. For instance, the conveyor supplier may be required to supply precision indexing conveyors, belt conveyors, and accumulating conveyors. All the details are flushed out in the development phase.
During The Install
After establishing the layout and placing the orders, the integrator and component suppliers undergo a rigorous process of approval. Models and drawings are reviewed, circulated in layouts, and signed off on during this process. It's standard for the layout to be adjusted further during this phase before the layout is finalized and signed off on.
From this point onwards, the integrator will connect with all the parties to make sure all the dates and deliverables are being met. The integrators' material handling expertise and project management are critical during this phase.
The most significant components will be run off at suppliers, and the integrator will create the new system on their floor. The controls will also be generated and rigorously tested, and programming will be added. Finally, once all these steps have been taken, the system will be installed on the final user's floor.
After The Install
The integrator's work is still not fully complete, despite the completion of the installation. The system will undergo an extensive testing period, after which it'll be debugged.
The integrator also offers the users training lessons on the new machinery and teaches them how to maintain the line properly. In addition, many robotic systems integrators will aid in creating and deploying a spare part program.
Benefits of Working with an Automation Integrator
Cost-Effectiveness
Most businesses assume that workers with an automation integrator will cost more than working directly with a manufacturer, primarily because, in essence, an integrator is a middleman of sorts.
But, even though it is understandable to think that, in reality, it simply isn't true. When you involve systems or an automation integrator in a project, they bring a perspective and expertise that adds value to the project.
Which manufacturers' technologies ideally match the requirements of the systems, knowing how manufacturers' delivery times are affecting the go-live schedules, and the ability to mix and match different technologies in the system to meet the performance and budget expectations are all examples of the value automation integrators can offer.
Put merely, manufacturers are excellent at what they do. Still, they are guided by their bottom line and production capabilities, which can cloud their recommendations and judgment at times. On the other hand, integrators succeed when you succeed.
This, in turn, ensures that you'll ultimately achieve the kind of performance you need and want out of your operations, technologies, and systems.
Flexibility
When you opt to work with a manufacturer, it is essential to keep in mind that you're primarily locking yourself up into their software and hardware ecosystem. After all, you cannot simply expect a manufacturer to recommend machinery from one of their rivals.
They'll recommend their own machines for all phases of your project, regardless of whether it is or isn't the best option for your requirements. The recommendations of an automation integrator will be purely guided by the requirements of your project.
This means they might suggest you a mix and match of distinct pieces of machinery or technologies from an array of manufacturers to get the best-in-breed solution that'll encourage and empower you to reach your objectives.
Valuable Relationships
A genuinely skilled automation integrator will have several years of experience operating with the key players in the automation space. This experience translates into the automation integrator establishing strong relationships with multiple manufacturers.
Integrators can leverage these relationships in several ways to keep your project on the right track. For instance, an automation integrator is responsible for the sales cycle and machine performance. This minimizes the risk and costs of manufacturers. In exchange, it offers discounts on its machines unavailable to end-users.
While this will differ based on the manufacturer and integrator relationship, the equipment cost to the end-user is the same or less than going directly to the manufacturer. As another example, consider that supply chain problems lead to shortages in practically all the industries, including automation space.
System integrators who work in proximity with several manufacturers have a solid understanding of which of them have the shortest or longest lead times for machines. If your project is working on a strict timeline, just this relationship and intel alone can be the main difference between failure and triumph.
6 Things to Look for in a Good Automation Integrator
In order to get the most significant amount of value from working with an automation integrator, you must choose the right partner for your project. It is crucial to find an experienced automation integrator.
Using a versatile provider ensures they'll be ready for any obstacles your unique operation will face. Before sourcing an automation integrator for your company, here are the following areas you must look at.
Examine their work
It is vital to look at the years of experience a particular company has. Still, one must also consider the kinds of projects they do. If a company has a specialty that matches your objectives, it probably has the expertise you require.
If it specializes in just one aspect or type of automation that you do not need, it might not have sufficient knowledge for your particular situation. While generalist automation integrators might possess experience in various types of automation, they may not have enough in-depth experience for highly specialized or complex processes.
Knowing what seller or brand the integrator uses for components can be incredibly helpful. If you're acquainted with a specific type of machinery, you may be interested in knowing if the integrator has worked with it before.
Also, look for if they are "seller agnostic" and buy from various sources or if they work exclusively with just one vendor. The latter case isn't really a bad sign, but it can mean some machine options are limited. The real test to differentiate between a good integrator and a bad one is contacting the end-users regarding their experience.
Potential automation integrators will be happy to give you their references, so try understanding how the automation system operates and if the project stays on budget and on schedule. You might also be interested to know what their experience was like working with the integrator's team, such as:
Were the two parties able to build rapport and develop a good working relationship?
Was the communication timely and clear?
Was there a backup plan involved?
Were they upfront regarding any setbacks, or if things didn't go as planned?
Moreover, it is also essential to ask about the ongoing support. Most end-users will be required to call their automation integrator for assistance, adjustments, and troubleshooting. However, if this becomes an everyday practice, it can signify something's wrong.
Evaluate their approach to business and automation
Besides expertise and experience, you must observe how each automation integrator carries out its business.
Do they apply a one-size-fits-all tactic, or do they take time to properly comprehend the distinct aspects of each project?
Do they tend to try something different or untested solely because it is new?
Do they enjoy overcoming the problem-solving difficulties, or do they value creativity?
You may be unacquainted with all the different automation options present. Thus, it is essential to find an automation integrator that exists and is up to date on the latest technologies.
As per the Association for Advancing Automation , an experienced integrator who is up to date on technological advancements might help you look far into the future to exhibit how automation can scale your business over a certain period.
At the same time, you must see to it if they are promising more than they can deliver. It is always better to identify a supplier's limitations now than when the project has reached halfway and is faltering. Lastly, you must see them from a business point of view. Some things worth considering are:
Turnover rates
Number of workers
Financial stability
The frequency of subcontracting specialized work.
In addition, you must also see if their business values align well with yours in terms of roles and responsibilities, reasons to add or not add automation, and communication styles.
Proof of logical and practical problem-solving capabilities
Working as an automation integrator is a practical job. An integrator needs to have the knowledge and necessary skills to deal with a vast array of complex interoperability issues. Many companies that move towards automation face trouble with application components created at different times by different teams or come from various providers.
A professional integrator will be organized for hardware and software conflicts brought about by these issues. Your automation integrator will also be required to understand how to examine network and application logs.
They should know about the different communication procedures that can be utilized to encourage systems to interact. Fluency in several fields must be a requirement, so look for anyone with a profound understanding of:
IS/IT
Mechanical systems
Electric systems
Control systems
IT/Network/application security and visualization
Data management and software applications
Check if they can apply their past experience and knowledge to devise solutions and probe their ability to conceptualize one-of-a-kind solutions for your unique application. Look for chances to test the skills of an automation integrator when it comes to engineering and design.
The perfect integrator must be able to create robust 3-dimensional computer-aided designs (CAD) to communicate ideas and functions to the customer and for precision in assembly and manufacturing. They must even be able to display firm integration and implementation skills.
An affinity for computer hardware, software, and networking
The perfect automation system integrator will have no problem getting up close and personal with the more intricate details of the existing hardware, software, and networking functions. Look for experienced staff with a strong background in engineering or computer science.
Experience in other technical fields can be of significant help too. A versatile background and skills demonstrate that integrators have developed the skills for successful automation integration. Problem-solving and comprehending volatile, complex situations are vital in any automation integration project.
Evaluate their understanding of best practices in various industries
Automation integrators must provide firms with a honed skill set extracted from experience with a vast range of applications varying from automotive to food and beverage and so much more.
Roll handling, palletizing, assembling, flat product handling, loading, and unloading, and case packing are all something that can be automated – and a qualified automation systems integrator can tackle all these processes.
A professional integration team can create the necessary hardware and software for practically any automation project. This includes the ability to produce and design customized systems for processes like:
Cutting
Adhesive application
Welding
Metrology
Laser solutions
Non-destructive inspection
Material removal
Check their fit as a long-term partner
Good working relations call for clear communication as no two manufacturing automation projects are the same. You must explain your plans and processes in-depth, and they should be listening with all ears. See if they are willing to discuss the option with you, ask clarifying questions, and if they respond to your inquiries fast enough to keep the project in motion.
Good automation integrators won't overlook or dismiss customers' queries and admit when they don't have an immediate answer but are more than willing to find out. You must discover if the integrator has a clear set of expectations about the roles and duties for all parties involved. Check for signs that the automation integrator is well-organized and effectively manages the workflow.
Look for supplies that give your continuous support, particularly if you're new to automation. This includes testing and fine-tuning the system, troubleshooting, and training. According to the Association for Advancing Automation, setting up winning automation is more than simply purchasing the latest robot.
Integrators can prepare firms on the most insignificant details that get the most out of a system. For instance, integrators might recommend consumables or tooling that enhance the output further, or they might personalize training to better match the needs of workers. Hence, most of your project's success depends on the automation integrator you choose.
Wrapping Up
Suffice to say, taking the time to carry out comprehensive research on each automation integrator you take into consideration involves talking to previous customers, reviewing their experience, focusing on their business and communication style, and observing the systems they have installed. Finally, it is all worth the effort.