The renowned robotics manufacturer, Mecademic, packs optimum accuracy and precision into its small-sized powerhouses. Mecademic robot arms are the most precise and compact industrial robots you'll come across in the market, and they can be easily integrated into the most complex and confined applications.
These robots are mainly intended for industrial use in a vast array of applications such as micro-precision positioning, assembly, dispensing, testing and inspection, and pick and place . If you are interested in optimizing your project with an equally precise and small industrial robotic arm, you've come to the right place.
In this guide, we will talk about the world's most precise and smallest 6-axis industrial robot arm, the Mecademic Meca500, and its many exclusive features and benefits.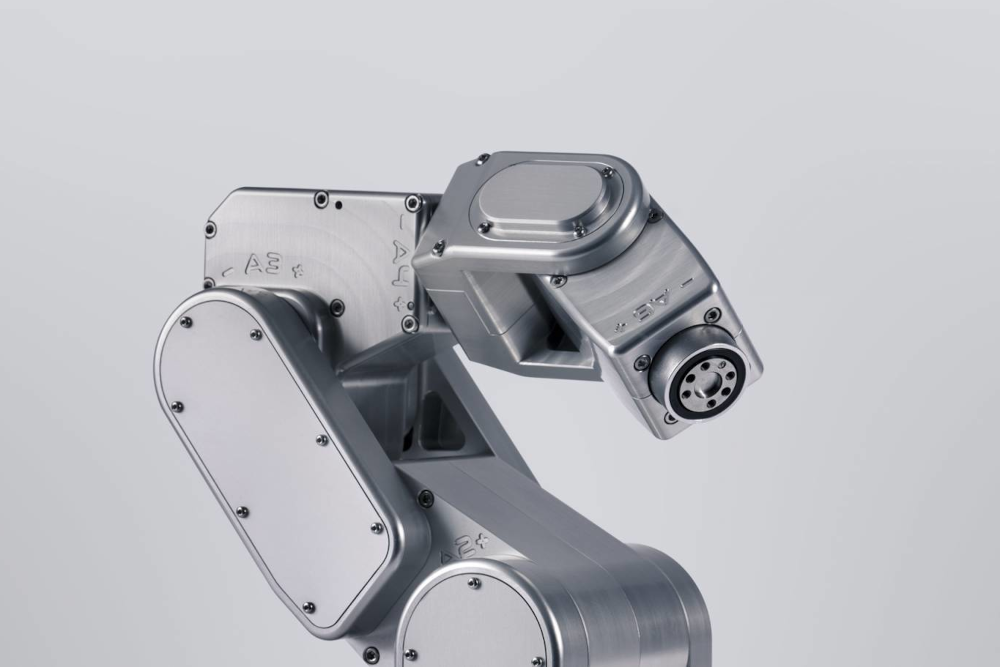 Introduction to the Meca500
The Meca500 is the most accurate, smallest, and easy-to-use industrial robotic arm in the world, and Mecademic, a small robotics manufacturer based in Canada, is its creator. The Meca500 robot outperforms other robots in its repetitive and precise manipulation of small parts and tools in various industries.
Back in 2014, Mecademic designed and debuted a miniature dual-arm SCARA robot called DexTAR for educational purposes. Even though DexTAR is now discontinued, it turned out that the robot appealed more significantly to manufacturers who would inquire if the miniature robot could be quickly adopted for pick and place purposes in industry.
Eventually, the team behind it figured out it was crucial to address the industry use case. They even had the expertise required to create small robots. Hence, this led to the creation of a 6-axis industrial robot, the Meca500.
The company received great appreciation and instant positive feedback when it uploaded a demo video of Meca500 in May 2015 on its YouTube channel. Since then, people have viewed the video almost half a million times.
Anyone who writes "miniature or small robot" on the search bar will definitely come across the Meca500. It is a one-of-a-kind robot that has received much recognition and helped Mecademic become known worldwide.
An In-Depth Study of the Meca500
Mecademic and its small team take great pride in the fact that they manufacture practically everything for the Meca500 robots out of a 10,000 sq. ft. assembly and production facility near downtown Montreal. The team behind this powerhouse only buys a few main components, such as the processors, from elsewhere.
Still, the company manufactures the majority of the items on its own, including the drives for the Maxon motors and the aluminum housing. Moreover, it also implements all the coding for the in-house robot controllers without requiring a library.
Meca500 gets its laser-like precision from the zero-backlash gearboxes from Harmonic Drive, with 5μm repeatability. For instance, you're bound to see substantial electronic parts and vacant space while opening and looking inside of another robot. However, every bit of space is utilized in the case of Meca500.
The bigger the robot is, the more small errors you encounter in the joints, which is exactly why Meca500 is designed to be more precise. Mecademic utilizes a coordinate-measuring machine (CMM) to detect the mistakes and scrutinize each robot instead of the metrology machinery that is prevalent amongst industrial robot manufacturers, like laser trackers.
This allows the Meca500 to achieve an incredibly high precision rate and satisfies the requirements of the company's clients who use it for inspection. Inspecting electronic gadgets such as cameras or cellphones requires moving the robot with high precision.
The Meca500 does not require a bulky external cabinet. This enables the Meca500 robot to be mounted in confined spaces for precision assembly, testing, machine tending, quality inspection, and dispensing across manufacturing industries, including aerospace, electronics, watchmaking, and medical devices, and automotive.
Immense Control on a Small Scale
Since everything is embedded within the Meca500's base, there aren't any thick cables or desktop controller boxes to deal with. Once you plug in the Meca500 with an Ethernet cable, it can be programmed straightaway from a web-based interface that can be accessed on any desktop computer.
Mecademic believes in the philosophy that robots are a component that should complement your current operations. Operators can use their own choice of programming language to convey the instructions to the robot through EtherNet/IP, EtherCAT, or the TCP/IP protocol.
The Meca500 industrial robot arm features countless rotations on the end joint, onto which any type of tooling can be affixed using an adapter plate. The company also collaborated with several other companies like SCHUNK on a proprietary diminutive electrical parallel gripper, the MEGP-25, which can be controlled similar to the same commands used to move the Meca500 robot arm.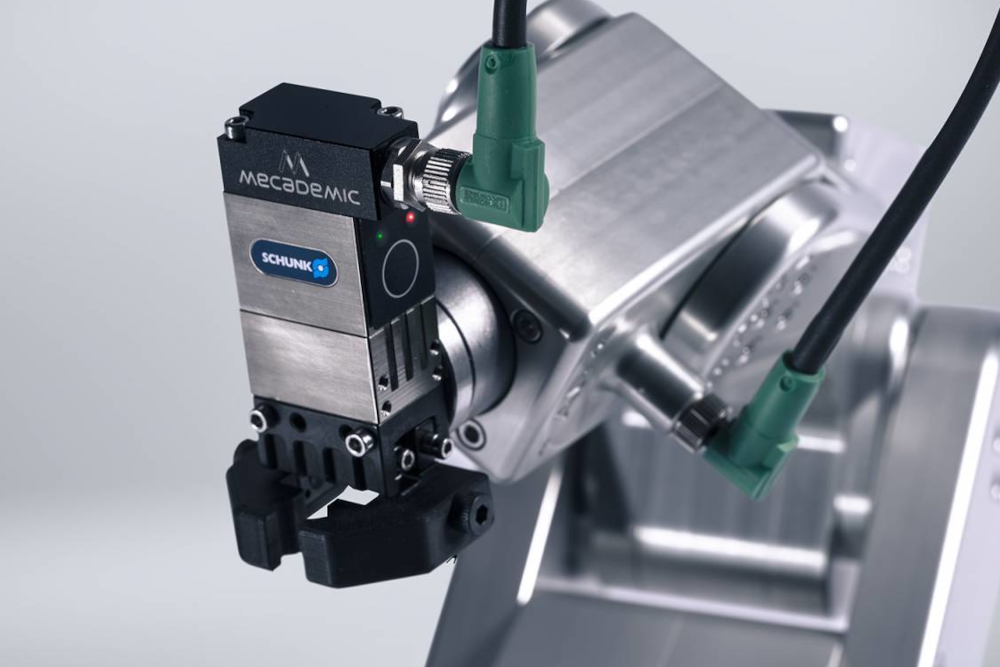 How Meca500 Stands Out From Other Industrial Robots
Wondering what makes the Meca500 industrial robot arm stand out from other robot arms? Meca500 is distinctive in the sense that it is a plug-and-work robotic part that can easily work in conjunction with any PLC or PC, unlike other industrial robots that mainly work as complex stand-alone systems.
This robot acts as a slave more than a master, making it incredibly simple to integrate through a PLC or computer. Moreover, it is relatively easy to use, affordable and does not require a proprietary language to learn. It is one of the few industrial robots with a controller at its base. It is also the only industrial robot arm that is small enough to fit into the palm of your hand.
Meca500 is also designed to minimize deployment time and to optimize space efficiency in factories and labs. Finally, the best part about Meca500 is that there is no need for software installations, training courses, or extra option purchases. Here are some of the applications for Mecademic's robots:
Micro-manipulation
Pick and place
Assembly
Dispensing
Machine tending
Testing and inspection
Mecademic at the Automate 2022 Tradeshow
Last week at Automate in Detroit, Michigan, Mecademic's booth was on display from June 6th till June 9th, 2022, featuring 35 of Mecademic's small industrial robots. Anyone who attended the show got a chance to see this one-of-a-kind diminutive robot up close.
These robots worked effortlessly and tirelessly in demonstrating to people how all robotics problems can be resolved at the snap of a finger, using the help of various end-of-arm tooling and several other automation parts. People were invited to interact with Mecademic's team to discuss their automation needs.
Besides the Meca500 itself, Mecademics also released an array of new adhesive grippers for the Meca500 6-axis small industrial robot in collaboration with its German partners, Innocise and SCHUNK. These cable-less ADHESO grippers are entirely passive, meaning there's absolutely no need for messy cables. Moreover, they don't leave marks behind on parts.
The fact that Mecademic's Meca500 has gained so much recognition can be witnessed from its exhibition at the Automate 2022 tradeshow, which might make you wonder what it is about the Meca500 that makes it so distinct?
In this next section, we will look at the Meca500 robot's cutting-edge specifications and numerous features to make you know what exactly you are getting your hands on.
The Meca500 Robot's Key Features and Benefits
Using the Meca500 small industrial robot arm in your business has various benefits. These include the following:
Minimized Footprint
The Meca500 robot is a miniature robot that is relatively small compared to any other industrial robotic arm. Besides including a controller contained within its base, it is also remarkably portable.
Enables Robot Arm Integration
Another thing that makes the Meca500 different from any other industrial robot is that it's a plug-and-work component that is easy to interface with any PLC or computer. As a result, businesses can efficiently work with the robot using any programming language they prefer.
Reduce Tolerances
The best thing about the Meca500 robot is that it is constructed with zero-backlash gearboxes and precision-machined aluminum, making it the most accurate 6-axis industrial robot in the world. Moreover, it takes great pride in offering repeatability of 5μm.
Benefit From Flexibility
The Meca500 robot can be simply mounted in any orientation. This built-in flexibility allows for easy integration in various settings. It mechanically makes up for gravity without needing any software adjustments.
Meca500 Specifications
Now, let's move on to the unique specifications of the Meca500 small industrial robot.
Robot Arm
The reach of this miniature industrial robot arm is 260mm. It is barely 4.5 kg and has a payload of 0.5 kg rated (maximum 1 kg). Still, when it is fully extended, it can extend up to 330mm.
Precision
Mecademic's outstanding precision robot arm is facilitated with premium-quality zero-backlash speed and the best quality high-resolution encoders in the market. Moreover, it comprises precision assembled, and precision-machined components, all of which are examined at the company.
Controller
The controller of the Meca500 robot is included in its base, which is the size of the palm of a hand. It doesn't contain any bulky controller cabinet, messy cables, or teach pendant. Moreover, since it has a small footprint, this small industrial robot is best suited for tiny and cramped spaces.
Power Supply and Safety
Finally, the Meca500 robot is also equipped with an external 24-volt power supply with a safety module, emergency stop button, and safety I/O (input/output) interface. You can easily connect the external power supply with any standard electrical outlet (120-volt).
Operation
You can easily link the Meca500 robot with a computer or PLC through the Ethernet cable offered and use your choice of programming language like Python, C#, Java, etc. You may also control the robot by most PLCs via structured text or ladder logic. Users may also interact with the robot through EtherCAT, ensuring a response every time. Another benefit with EtherCAT is, as with most devices supporting the protocol, devices can be daisy-chained together which eliminates the need to run individual ethernet cables back to a network switch.
At its simplest level, users can send string commands to the robot arm over TCP/IP. The commands comprise usual robot instructions like MoveLin(x,y,z,α,β,γ). Likewise, the robot's controller sends back strings with multiple types of feedback.
The controller features of Meca500 consist of an intuitive web interface for operation, which users can access using any web browser.
The Significance of Working with a Robot Integrator
A good integrator's job is to define the need or issue in the end-user's process, come up with a solution, work on building it, and finally test it to see the results.
Being an integrator, our job is to tailor the robots accordingly to match the requirements of the end user's application. This falls outside of the responsibilities of robot manufacturers, as they don't have the required resources or personnel to tackle the end-users needs.
As a result, robot integrators tend to bridge this gap with specialized programming, engineering, and design resources. There are other aspects that an integrator can take care of for you as well, such as tooling, safety fencing and light curtains, PLC programming, machine vision systems, and control panel fabrication. This makes it crucial for companies to work with robot integrators like B2E Automation as we'll help them strategize on how to best use the robot.
After this, we fit the robotic solution into the customer's production processes and offer fundamental training to ensure the final users can easily run and maintain the system correctly, without fail.
Why You Should Work With B2E Automation
Admittedly, robot integrators are by no means experts in every application. Instead, there are usually a handful of common applications they will specialize in. Some applications are incredibly process-intensive. Hence, it is crucial to choose a robot integrator with a skillset and proficiency that best matches your requirements.
At B2E, we are focused on helping you get optimal value with automated robots that can maximize your output and human power, and ease the complexities of your standard working operations for enhanced efficiency.
Here at B2E Automation, we excel in pick and place robots, material handling robots, palletizing and depalletizing robots, and a wide variety of applications where machine vision is involved. With our ability to address your needs on everything from high level design, down to low level control panel fabrication, we are happy to take a look at any application you are working on.
Mecademic Certified Integrator
The recently launched Mecademic Certified Integrator program connects customers considering a Meca500 robot with some of the most experienced and highly skilled integrators. B2E Automation is proud to be one of the first companies to have earned this accreditation. If you looking for an integrator who can fulfill all your robotic solutions, you've come to the right place.
A certified Mecademic integrator will help you learn how to use robots in the most effective manner, and to develop custom solutions that include the robot, so that your business can benefit in terms of productivity and profitability. An integrator also has access to preferred pricing and priority support, along with other benefits that can be passed onto you.
Wrapping Up
All of Mecademic's high-precision miniature industrial robots, including the Meca500, offer lower costs, space savings, and optimized flexibility in any robotics application. These industrial robotic arms are manufactured and designed using the best-in-class, premium quality components.
We hope this ultimate guide to buying a Mecademic Meca500 Robot has helped you understand what makes the Meca500 one of the unique small industrial robots in the field of industrial automation from Mecademic different from other automation companies .
If you are considering the Meca500 for an upcoming project, feel free to reach out to us .