A mini conveyor, also more commonly referred to as a small conveyor belt , is a miniature conveyor system that is lightweight and small, and quite exquisite in appearance. Regardless of their space-saving sizes, mini conveyors are designed to carry lightweight items and small parts efficiently and safely.
A top-quality electric small power-driven conveyor belt has vast applications for material handling automation machines. Manufacturers of mini conveyor belts can customize and design all kinds of small conveyors at affordable prices. These include cleated conveyor belts, belt conveyors with internal drives, food-grade conveyors, etc.
A mini conveyor belt system is ideal for conveying respiratory masks, surgical supplies, stents, pharmaceutical drugs, syringes, tiny bottles, and eyesight glasses. This makes this incredibly valuable for the pharmaceutical, life sciences, and medical industries. Keep reading to learn everything about a mini conveyor belt and how it can be helpful for your business.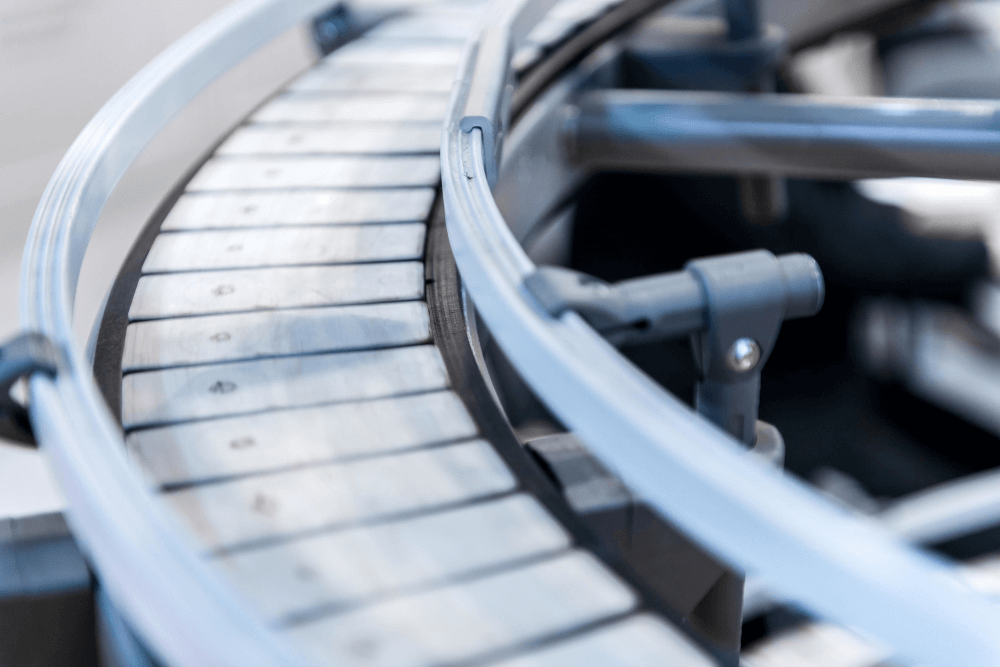 What Is A Small Conveyor Belt?
A small conveyor belt is specifically suited for events that call for space optimization. Due to its reasonable structure design, a small conveyor belt has a vast range of applications in automation equipment, like vending machines.
Some people may be familiar with small conveyor belts such as mini conveyor belts, mini conveyors, mini belt conveyors, miniature conveyor belts, etc. One person's small conveyor belt may be referred to as a mini conveyor belt by another person.
Both small and mini conveyor systems are not strictly identified by clean and pure specification differences. Instead, they are relative, specifically regarding a business facility's size. Hence, these terms are frequently used interchangeably.
A small conveyor belt system is able to manage the start, stop, and moving of workpieces. Apart from this, they can be used in collaboration with sensors and robotic arms. A mini conveyor belt tends to have a lighter load in general.
The weight of the products that are transported from one place to another is about several kilograms (kgs). Moreover, you can also use an internal built-in DC motor or DC direct motors if there is a more significant need for space.
The food industry has long depended on small conveyor systems, mainly because they tend to minimize material handling and human contact and make the food processing routine a lot more efficient and safer in general.
With that said, a significant amount of companies in the food industry deal with processing and handling bulk items. Small conveyor belt systems drastically aid in reducing the level of the workforce involved. They can also potentially get rid of laborers altogether.
Moreover, mini conveyors significantly cut down the overall training time and employment costs, making them an integral part of the food industry. The technological advancements of small conveyor belts significantly revolutionize how businesses view packaging, transportation, and food production.
Specifications of Small Conveyor Belts
Usually, a mini conveyor belt system tends to have a belt width of 10mm, 20mm, 50mm, 100mmm, 200mm, 250 mm, 300mm, 350mm, and 400mm.
There are several different types of belts, including heat-resistant belts, food-grade belts, anti-static belts, cleated belts, general-purpose belts, ribbed anti-deviation belts, and oil-resistant belts, modular belts, slip non-slip belts, slat chains, etc.
A mini conveyor belt system can have any of the following motors: stepper motor, geared motor, servo motor, direct DC motor, etc. Moreover, a speed controller may also be available.
The belt's frame material may be composed of aluminum plate, aluminum profile (anodic oxidation treatment), stainless steel plate, painted steel, etc.
A small conveyor belt may be customized with both one-way and two-way transmission directions.
The most common accessories found in a small conveyor belt include aviation plugs, different types of sensors, and brackets (stands). Some of these sensors may be used for counting, while others can control the start/stop of the equipment. Moreover, aviation plugs can meet the necessities of plugging and unplugging.
Categories of Mini Conveyor Belt
First of all, you will likely come across several types of mini conveyor belts. You can find conveyor systems in various shapes and sizes. However, it requires choosing a particular model according to your individual needs.
If you want to ensure that you choose the best small conveyor belt system, it is best to contact your local engineer to design a customized miniature conveyor belt that best meets your needs. Here are some examples:
A motor-driven roller (MDR) conveyor replaces the standard motor with an electric roller to optimize space. However, the minimum roller length is typically 200mm, which is not that appropriate for the narrow belt conveyor.
A head drive mini-conveyor is a short conveyor belt and is probably the most basic model. Still, it has the most significant load enduring capacity.
A belt conveyor with a built-in internal motor is a kind in which the motor is internal between the profiles to control the small belt conveyor's height.
A full belt conveyor indicates that the whole belt surface of the conveyor can act as a conveying surface.
An intermediate drive micro belt conveyor can easily adjust the tension in the center area.
A small cleated conveyor belt is the perfect option for incline and equidistant conveyance of small workpieces.
A narrow belt conveyor is perfect to be used in small spaces.
A double-row mini conveyor (also known as a timing belt conveyor) implements the method of a synchronous and a motor belt drive. Thus, it can comprehend the synchronous transportation of two rows of timing belts. This kind of conveyor system is best suited for pallet transfer.
Essential Features of Small Conveyor Belts
Short delivery time
If there are five micro conveyors, then the delivery time can reach a maximum of 5 to 7 days.
Low price
You can easily find a small conveyor belt system at a relatively low price. The rational structure justifies the small conveyor cost . Thus, it minimizes the cost for customers.
Diversity of choice
A miniature conveyor system can be easily customized according to your needs. Hence, it is able to meet a diverse set of needs. In addition, optical or photoelectric sensors can also be installed on small conveyor belts, thus realizing automatic control more efficiently.
Advantages of Small Conveyor Systems
The primary body of a mini conveyor system is mainly composed of aluminum profiles or plates. Hence, it makes up for the entire equipment's lightweight structure.
The majority of the small conveyor belt components and parts can be purchased separately. Hence, customers can have a broader range of options for customizing, designing, and maintaining small conveyors.
Typically, you can have your small belt conveyor system customized with a unit of 5 or 10mm. This enables customers to conveniently opt for their desired size.
A small belt conveyor naturally has an advantage in the conveyance of tiny pieces. As a result, it is quite prevalent in conveying small items and packages. Mini belt conveyor systems generally have low noise and run quite smoothly. It also allows you to achieve both up and down transportation.
A small conveyor belt has an adjustable speed, and the tension of the belt is also adjustable. These conveyors generally have a simple structure, which ultimately makes maintenance and upkeep of the equipment relatively easy and convenient.
You can even add nuts on the frame or machine threaded holes in the plate of small conveyors beforehand. This makes the entire process of installing other parts quite convenient for customers.
How to Choose a Small Conveyor System
The process of customizing a mini conveyor belt system requires adhering to the following details:
Before you proceed with anything else, it is crucial to advise the type of small conveyor system. Small conveyor belts come in various shapes, designs, and specifications. For instance, if you are strictly focused on space optimization, you need to opt for equipment with an internal DC motor.
Secondly, you must know where you will be requiring side guards and the stand (support legs).
Next, the mini conveyor's specific size needs to be determined. For instance, it is essential to know the width of the belt and the length of the conveyor. Furthermore, if you have any requirements for height in general, you will have to mention them.
After this, you have to inform your local conveyor engineer about the weight of goods and applications. Different applications, the weight of goods, and motor power call for different frame and belt materials. However, a small conveyor belt is mainly ideal for lightweight items.
Sometimes, it is also recommended to inform about the conveying speed. The general speed typically ranges from 0-10 meters/minute. Apart from this, another essential thing to determine is if you require the conveyor speed to be adjustable.
Lastly, if there are any additional requirements, you need to mention those too. For instance, a few customers may need a counting function in their small conveyor belt. Thus, your engineer will have to add sensors to fulfill this function.
Mini Conveyor Belt Application and Materials
If you need a small conveyor belt system for general use, it is best to opt for a PVC belt, as it has an excellent temperature resistance ranging from 30-80℃.
If you need an inclined conveyor, you can use a non-slip textured belt. This tends to increase friction, making it suitable for climbing transportation. Other than this, you can also opt for the small cleated conveyor belt system.
If you need a food conveyor, getting a food-grade belt is crucial. The two best belt materials for this are polyurethane (PU) and polyethylene (PE).
If you need a small conveyor belt for any heat-resistant or oil-resistant applications, a PU or an NBR rubber belt will be the most suitable choice. However, Teflon or canvas belts are also able to withstand rising temperatures. You must ensure the chosen belt material conforms to the specific temperature.
Lastly, if you want to keep your conveyor belt from deviating, a ribbed conveyor belt is your go-to option. The supporting plate should have a guide groove to be used together.
Installation and Disassembly of Small Conveyor Systems
A mini belt conveyor system is typically modular in design, indicating they are relatively easy to install and disassemble. Moreover, it is crucial to understand the operation process to maintain the small conveyor in the best possible way. Here is how a small conveyor belt is installed (assembled).
Step 1: Install the support legs (stands).
Two sets of H-shaped brackets must be placed on the floor. Then, you need to install the adjustable foot onto the support legs (stands).
Once the installation is complete, you must use a tape measure to measure the height while ensuring that each bracket is placed in the same horizontal position.
Finally, the profile must be fixed with screws to the two legs to prevent the small conveyor belt from shaking.
Step 2: Assemble the conveyor belt.
Now, the support plates need to be set into the small conveyor belt, and the driver roller and active roller should be placed in a sequence. Next, you will need to attach the two sets of guide rails on both sides. Finally, the belt is ready to be installed onto the stands.
It is recommended to use a tape measure to determine whether the diagonal lengths of the small conveyor are the same. Otherwise, it may impact the life of the small conveyor belt and cause it to deviate.
Step 3: Install the small conveyor belt motor.
After installing the motor onto the support place, it is time to install two sprockets. One should be installed on the driving roller, and the other should be mounted onto the motor's external shaft. Once again, the lengths should be checked with a tape measure to ensure both sprockets have the same length.
If the length of both sprockets differs, there is a high chance for the small conveyor to get damaged. After the sprockets have been installed, you must install the chain, mount the speed regulator, and attach it to the motor.
Step 4: Assemble the accessories and put the small conveyor belt to test .
Often, you may be required to install add-ons and other accessories to the small conveyor belt, such as side guides, sensors, etc. Following this, you may have to adjust the belt tension. A loose belt indicates there is not enough friction. Thus, the small conveyor belt will not function normally.
Consequently, this is the best time to test the small conveyor belt system. Check to see if the mini conveyor is working normally. Simultaneously, you must also keep a look for signs of belt deviation. If there is any deviation, the belt should be adjusted in time.
While testing the small conveyor belt, run it for a few seconds or minutes without placing any load. Then, you can put the products to the test.
Small Belt Conveyor Precautions for Before and During Use
While using a small conveyor, you must ensure it operates in the right way. Here are some essential instructions you can follow to ensure it functions correctly:
Precautions before using the small conveyor
Before you begin using the small conveyor, it is vital to carefully read the book of instructions to ensure the correct and safe usage of the mini conveyor. Small conveyors are relatively lightweight and require careful handling, especially while being moved. By all means, prevent the equipment from slipping as it can lead to injury.
The balance of the small conveyor is an essential factor to take into consideration when it is being transported by crane. Moreover, the ground wire must be connected to prevent causing an electric shock. A circuit breaker must be installed on one side of the small conveyor belt. Also, it is essential to adjust the belt's tension prior to use.
Precautions while using the small conveyor
A small conveyor system cannot be used for conveying or moving people. A few environments in which small conveyor belt systems cannot be used include explosive environments (a place with no dust or natural gas) and water-based environments (no waterproof design).
Moreover, you must not touch any moving parts while the small conveyor machine functions. It is always a good idea to install safety protection devices for additional safety. The motor part of the small conveyor system will be hot while it is in motion. Hence, you must be extra cautious to not touch it, or else you can get burned.
Note that you should use the small conveyor systems only as per their load-carrying capacities, as the surplus impact will likely ruin the conveyor machine. Finally, the bolts of the small conveyor system should be examined annually because the vibration during operation can loosen the bolts.
How to Maintain Your Small Conveyor Belt
The main power supply must always be cut off before you begin your small conveyor's maintenance. It is forbidden to exert excessive tension. When the conveyor belt is too tight, constant or overuse of the mini belt conveyor can cause premature aging of the belt and also destroy the pulley shaft.
Make fine adjustments to the right and left while adjusting the belt tension. If the tension adjustment bolt is tightened from one side, the belt will only deflect to one side in no time. Thus, contact between the pulley holder or guide rail and the belt will only result in the wear or tear of the belt.
Moreover, the belt deviation should be adjusted at all times while considering the belt tension. If it's a small conveyor with anti-running ribs, prevent the ribs from coming into contact with the aluminum alloy profiles and pulleys during adjustment. Lastly, like any other conveyor machine, a small conveyor belt must also be cleaned thoroughly before use.