As small and medium-sized businesses (SMBs) evolve, some time-consuming tasks should be automated to optimize the business results and ultimately improve the bottom line. When it comes to obtaining operational efficiency, it's essential to equip your business functions, systems, and processes with tools that aid your organization in becoming more competitive in a digital business environment.
Automation helps you achieve all this. One of the most excellent forms of automation of all time has been the use of automatic storage solutions, such as an automated storage and retrieval system (ASRS). An ASRS is a genre or type of advanced warehouse automation technology designed to store, buffer, and retrieve goods and products on demand.
ASRS technology varies considerably and comprises several types, applications, and uses. It is usually integrated with warehouse management software (WMS), warehouse execution software (WES), or other controls. In this guide, we've collected a lot of information that can help you understand everything about ASRS, there uses and benefits, and how and why SMBs should also implement these automatic storage solutions.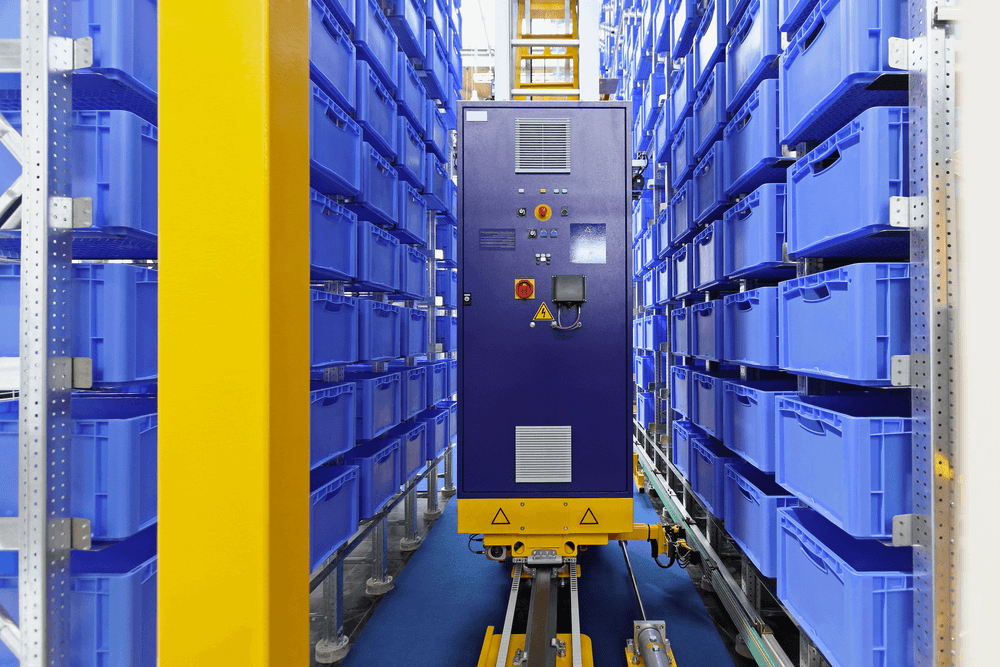 Why Small and Medium-Sized Businesses (SMBs) and Warehouses Can and Should Automate
The best thing about automation is that it does not have to be out of reach. The benefits of ASRS are growing as swiftly as the systems are rising in popularity as an excellent tool for storage in fulfillment in a vast array of industries and companies, both large and small and medium businesses (SMBs).
To guarantee the optimal outcomes – results that optimize the packaging investment of a company and protect the product – warehouses need to consider automating their business processes.
Technological development is occurring in two primary areas: in the warehouse management software that integrates automated lines with legacy systems and in the equipment itself.
The more automated your operation is, and if it is designed, set up, and maintained properly, the more control you will have over labor, material handling, and spoilage, as well as the costs connected with maintaining temperature control in huge facilities.
For companies looking to integrate with enterprise resource planning systems (ERPs) or other systems, boost output, and scale up or down as per demand, an ASRS might be a good fit.
Increased Output
Installing an ASRS is equivalent to using the latest technology to integrate WMS and ERP systems to maximize warehouse efficiency, resulting in higher output. Using just a single point of contact for automated warehouse controls and real-time data collection and query solutions boosts efficiency.
Moreover, your facility tends to run more effortlessly by providing instant status and user input, along with carton auditing and tracking.
High-density order management systems (OMSs) are more flexible than a conventional crane-based or radio shuttle rack system, permitting higher throughput. It also enables crates and pallets to be moved through more quickly.
Moreover, these systems can often be set up to follow the outlines of existing buildings, which eliminates the requirement for new construction. Their unique designs enable the pallets to rest on the cart platform. This eliminates handling complications from wrap tails, broken boards, etc.
Another advantage is current systems are constructed with standard industrial components, making them more accessible and quicker to repair when they go down. Downtime must be minimal as parts are easier to get. In addition, costs are also lower.
Flexibility
Flexibility also plays a significant role in choosing what kind of system to install. An automated storage and retrieval system offers considerable flexibility for many businesses. As distribution centers are constructed more often in the urban and suburban areas, real-estate properties become more costly.
Moreover, there may be limited space available. This makes it more crucial to be able to construct more high-rise facilities. An ASRS allows the shelves to be stacked as high as possible.
The system can be set up to address high shelves without harming workers who have to operate equipment to retrieve pallets. The modular systems provide optimum storage capacity with the smallest footprint and highest throughput. Moreover, additional modules can be added as SKUs and capacity requirements increase.
Another benefit of a modular system is that it can be adjusted easily. With fluctuating demands and changes in buying trends, your facility might need to scale up or down accordingly. With a modular system, you can alter it as fulfillment needs vary.
With an ASRS, the whole warehouse can be optimized according to volume. The order mix can also be attuned as the conditions demand.
Integration
It is vital to integrate machine advancements with transactional activities. It continues to grow. Trace and track technology provides clear insights into where every pallet is and when it arrived. Each can be traced all the way to the final customers.
Traditional heavy, rigid warehouse systems can be challenging to fit in with the existing facilities, requiring facility changes to accommodate them. More contemporary systems' super high-density storage capacity allows for changes in design, layout, and volume while offering more flexibility and storage capacity.
Know that just moving faster is not equivalent to higher throughput. If the system is designed to fit in with your current systems, it'll be far more effective. Your warehouse system is a part of an entire transaction system, including an inventory management system. An ASRS system can be optimized depending on the likelihood of that item required to be retrieved.
Uses & Applications of Automated Storage and Retrieval Systems
There are multiple applications and uses of ASRS, and they can prove to be incredibly useful for a vast range of operations.
Goods-to-Person for Order Packing and Picking
Packing, picking, and processing orders are probably the most effort-requiring and time-consuming tasks in the order fulfillment process. In fact, the process of picking orders manually accounts for over 50% of the time connected with picking. ASRS provides facilities as an alternative to this via Goods-to-Person (GTP) order picking.
In a GTP order picking system, the worker doesn't physically move from one product location to another to pick an order. Instead, a shuttle, mini-load ASRS crane, carousel, automated mobile robots (AMR), or VLM can retrieve all the essential stock from storage and deliver it to the worker directly, who works in a pick/pack station.
Once the right amount of product has been picked, the system returns the stock to storage. The following item needed for the order is delivered to the employee for picking. Depending on the operation, this can be done on a split-case or full-case basis.
In either case, the ASRS can sequence product so that it makes practical sense – permitting cases or pallets of heavy-weight products to be placed at the pallet's bottom, for instance, or organizing products so that the same products are together or in a sequence to match the layout of a store, shipping time, and cut-off time, to name a few.
Managing Buffer Storage
Different processes consume different amounts of time to complete in a standard warehouse. If these differences aren't appropriately managed, it only takes a poorly-timed piece of a machine or zone slowly done at any stage to cause a mass slow down or bring the whole operation to a stop.
Buffering aims to keep such a breakdown from occurring by making sure that enough products/supplies are always on hand in various stages to keep the operation running. Still, even though buffering makes sense, it can become a logistical nightmare if poorly managed. As a result, this requires miles of a conveyor to properly stage and buffer.
ASRS has the potential to swap these conveyor buffering systems and allow an operation to store buffer products efficiently and retrieve it when required. Based on the operation's specifics, this buffer management can be placed in several areas of the workflow of an operation, whether that's:
Staging raw materials/product as it is delivered (inbound receiving buffer).
Storing inventory precisely where it'll be required along the production line (order consolidation) or (assembly line point-of-use buffering) holding several portions of an order selected in varying zones and then combining them for final packing and shipping.
Storage and Point of Use Storage
Another significant benefit of ASRS is its ability to store products such that it makes efficient use of available space in the long run. The implementation of ASRS means that an operation can automate their long-term storage of the product or raw material and retrieve the things they need when they want to.
By integrating the ASRS with their WES, it's possible to optimize and utilize inventory smartly via LIFO (Last in First Out) method, FIFO (First in First Out) method, expiry dates, lot numbers, packaging requirements, order cut off times, and numerous industry- and organization-specific requirements.
Staging Orders for Shipping
The impact of E-commerce and universal channel delivery on the order fulfillment process can't be overstated. Customers can now shop online and place orders round the clock, and they want their products to be delivered quickly and on time.
However, even if an operation accepts orders and processes them 24/7, there are usually many constraints to shipping windows: For instance, due to employee shifts or excessive nighttime or weekend delivery charges.
To make up for these limitations, an operation can pick and handle orders always and use an ASRS to place them in buffer storage to keep them till shipping is open. This saves a lot of time and lets an operation constantly produce, even when orders can't leave the facility physically.
Types of Automated Storage & Retrieval Systems (AS/RS) SMBs Can Also Implement
ASRS was initially deemed inaccessible by several smaller order fulfillment operations and retail warehouses that didn't have the budget to invest in such progressive technology. However, ASRS technology has swiftly developed over the years. The new options offer a wide array of speed, size, flexibility, and cost, causing the rate of system adoption to skyrocket.
This has made ASRS technology an incredibly prevalent and meaningful investment option available to a majority of operations for both large and small- and medium-sized businesses. As a result, there are many ASRS systems that even SMBs can implement and integrate with their existing operations.
Typically, ASRS can be divided into 2 main varieties: Mini Load ASRS and Unit load ASRS. Between these 2 primary buckets, there are 6 main types of ASRS systems:
Mini Load ASRS Cranes
Unit Load ASRS Cranes (Moveable Aisle and Fixed Aisle)
Micro-load (stocker)
Bot- and Shuttle-Based ASRS
Vertical Lift Module (VLM) ASRS
Carousel-based ASRS (Horizontal, Vertical, and Robotic)
Now let's explore them all one by one in more detail.
Unit-Load ASRS
Unit Load ASRS is mainly used to deal with exceptionally tall, heavy, and large weights ranging from 1,000-5,500 pounds. This capability allows Unit-Load ASRS to manage partial or full cases and pallets. Ideally, Unit-Load comprises narrow aisle racks, extending to heights over 100 feet and house pallets of goods and products.
These racks are paired together with a crane, which is used to place and retrieve the pallets physically as required. Unit -Load ASRS is an advantageous option when there is limited pallet level storage, and swift retrieval is critical. Moveable aisle and fixed aisle cranes are the two main forms of Unit-Load ASRS.
Fixed-Aisle Unit-Load AS/RS Crane
In Fixed-Aisle Unit-Load ASRS systems, pallet racks are arranged with slender aisles amid them. A crane travels amid these aisles while moving horizontally and vertically to retrieve and store products. The crane is fixed to operate in a single-aisle of pallets.
Moveable-Aisle Unit Load AS/RS Crane
Moveable-Aisle Unit-Load ASRS works similarly to Fixed-Aisle Unit-Load ASRS. It comprises a crane moving amid slender aisles of pallets beside some track type. The primary difference between fixed-aisle and moveable-aisle Unit-Load ASRS is that the latter isn't fixed to a specific aisle.
With this capability, a single piece of a machine can serve several aisles, and ultimately a substantial working space.
Mini-Load ASRS
Mini load ASRS usually handles smaller and lighter loads (up to 75 pounds) than unit-load systems. Unlike unit-loads that can handle full pallets, they hold trays, totes, containers, bins, and/or cartons.
Sometimes, mini-load ASRS systems are called "tote-stacking" or "case-handling" systems. They're especially suited for operations that call for storage locations for a significant volume of SKUs but don't have the adequate floor space needed for traditional carton-flow shelves to offer a picking face for each SKU.
They can also be utilized to effectively buffer and sequence/release the product to palletizing stations or picking. They can also be used to mechanically restock the picking locations like carton flow.
Shuttle-based ASRS
Shuttle-based ASRS systems deliver the goods via a bot or shuttle that runs on tracks between a racking frame. They can work on one or multiple levels based on the operation's needs. They can be capacitor- or battery-powered. The shuttles are responsible for delivering the carton or tote to a workstation integrated with the system.
When a specific item is requested, the shuttle drives to the product location, retrieving the carton or tote that contains the requested item. The shuttle will then take the carton/tote to a workstation. Different shuttle models incorporate different designs to provide various advantages. For instance, one shuttle model is oriented vertically to optimize the floor space.
The shuttles move on the border of the rack and then move into an aisle to obtain a tote and carry it to its integrated workstation. Another shuttle model uses a vertical rack, but each bot moves on the floor and climbs vertically to obtain its tote.
Then it descends to the floor and independently delivers the inventory to a distant workstation. It'll line up at the workstation till it is picked and then automatically allocated a new task, after which it repeats the process.
AMR-Based High-Density ASRS
An autonomous mobile robot (AMR) based high-density ASRS is designed in a way that uses 3-axis AMR robots to travel up the storage rack vertically to retrieve the required inventory case or tote. The AMR stores the tote or inventory on itself and then steers down the frame and on the floor to one of the distant order-picking workstations.
The AMR rides up the ramp of the workstation, and the integrated software system and pick-to-light indicate which (and how many) items to pick. After this, the operator then places the right thing, and its quantity into one of the batched orders, and the AMR departs for its subsequent task.
This system offers a significant throughput, storage density flexibility, and labor requirements. Additional AMR and rack bots can be added, withdrawn, or moved to meet the existing and expected activity levels.
Carousel-based ASRS
Carousel-based ASRS systems comprise bins of inventory or products which constantly rotate along a track. When the operator asks for a particular item, the system will mechanically turn so that the right bin is accessible for the item to be picked. An integrated light tree also informs the picker which shelf, carousel, and thing to pick.
Carousel-based ASRS might comprise either a vertical carousel (bins move vertically, similar to a Ferris wheel) or a horizontal carousel (bins move horizontally, similar to a merry-go-round). Horizontal carousels are mostly used for small parts and items and raw materials or documents.
Robotic horizontal carousel ASRS is another variety that provides the functionality of a fully automated ASRS. In these systems, up to 3 tiers of carousels are stacked atop each other. The cases or totes are loaded on each shelf level.
All 3 vertical carousels work separately to present the required inventory to an extractor/inserter device that runs in front of them horizontally. The extractor/inserter takes as many as 2 cartons or totes per trip to take away the conveyor.
Here, it carries goods to a workstation and picks up the returning inventory, placing it back on a waiting shelf. The throughput and capacity can be further increased by increasing the number of carousel rows with an extractor/inserter ahead.
Vertical Lift Modules (VLM)
VLMs are enclosed systems comprising extractor/inserter in the middle and a column of trays on each side. It is a kind of goods-to-person technology. When any good is requested, the extractor/inserter identifies the location of the necessary tray, retrieves it, and takes it to an operator, who ensures the order is completed.
After the order is completed, the VLM returns the tray to its proper place before retrieving the next requested tray. Trays might either be dynamic or fixed. In a dynamic system, the location of where the individual trays are stored will vary. On the other hand, individual trays will always go back to the same place in a fixed system.
Micro-Load Stocker
A micro load stocker provides individual or discrete cartons or totes storage and retrieval. It's perfect for buffering, sequencing, and point-of-use items in a high-density footprint. It is an enclosed system with an extractor/inserter device that runs in the system's center, picking a specific stock queue and then discharging them onto an awaiting workstation or conveyor.
Different models of micro-load stocker store and retrieve goods differently, by either taking one item or a group of at up to 5 times in one go.
This system is ideal for storing SKUs until needed, discharging them onto an awaiting conveyor. It can be fit in with other ASRS systems to enhance the performance of other systems and significantly minimize the requirements of conveyor and floor space.
Benefits of ASRS
By automating low-value and repetitive goods retrieval and storage tasks, ASRS brings an array of powerful benefits to any operation that uses it. These include:
Ability to reclaim unoccupied vertical space
Enhanced throughput
Efficient use of floor space
Better safety and ergonomics, resulting in lesser accidents
More inventory storage density
Minimized labor costs
Increased order picking accuracy
Frequent modular design for optimum flexibility
Enhanced product security for premium inventory
Lesser labor constraints because of labor shortages
Conclusion
Is An Automated Storage and Retrieval System Right For Your Business?
As we have already mentioned, an ASRS comes with a vast array of benefits for the present-day facility. However, if you are running a small or medium-sized business, before you invest in any significant equipment purchase, make sure you consult a professional who can guide you on systems that might be the right fit for your needs.
Work with a reliable partner that offers multiple types of automation solutions – a partner that can help your scale-up small and medium businesses to full automation if that is your ultimate goal.